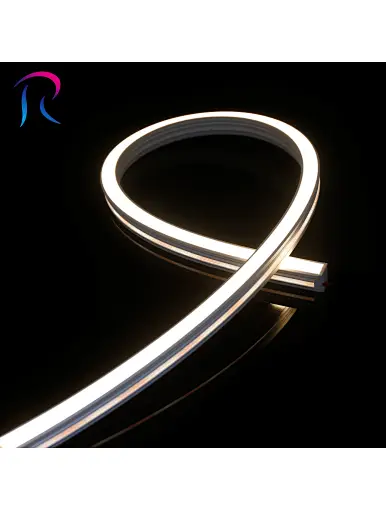 Embedded neon strip 1220
1.Embedded Silicone Neon Strip 1220 side Bending IP44,Silicone integrated extrusion molding technique;
2.DC24V,horizontal bending,1 outlet ways: front outlet;
3..Mini bending diameter:150mm, IP44 protect grade;
4.Anti-yellowing, anti-UV, salt and alkali resistance, high temperature resistance, uniform luminescence, no spot, can shape different shapes;
5. Wide applicability, easy toinstall and maintain;
6. Environmental conservation, long lifespan;
7. 3Years Warranty.
●Embedded silicone neon strip Max Bending: minimum diameter of 150mm
●silicone neon light,Yellowing resistance, UV resistance, acid and alkali resistance.
●Uniform and Dot-Free Light.
●Enviromental Friendly and High Quality Material.
●flexible neon tube Material: Silicone.
●Working/Storage Temperature: Ta:-20~60°C / 0°C~60°C.
●Lifespan: 50000H, 3 years warranty
Key Word:Embedded silicone neon strip,silicone neon light,flexible neon tube

neon strip Parameter:
Product name:               Embedded silicone neon strip
Size:                               H20*W12mm
CRI:                                90
Color                               2700K-6500K
Beam angle                    120°
Efficiency                        60-70lm/w
Wattage                          10W
Input voltage                   DC24V
Cut unit                          50mm(24v) 
Product features:
1.Embedded Silicone Neon Strip 1220 side Bending IP44,Silicone integrated extrusion molding technique;
2.DC24V,horizontal bending,1 outlet ways: front outlet;
3..Mini bending diameter:150mm, IP44 protect grade;
4.Anti-yellowing, anti-UV, salt and alkali resistance, high temperature resistance, uniform luminescence, no spot, can shape different shapes;
Application: